DeWALT MY ReWARDS Promotion Now On At Boys & Boden Chester

On November 13, Boys & Boden will host a launch event for the brand new rewards scheme, MY ReWARDS, by DeWALT. The scheme aims to reward customers of the top power tool brand with exciting experience days for qualifying purchases. The launch event will feature unmissable deals on quality DeWALT products, demonstrations on how to effectively operate DeWALT power tools, plus a chance to win an unforgettable experience day such as; quad trekking, rock climbing or snowboarding through this limited time promotion.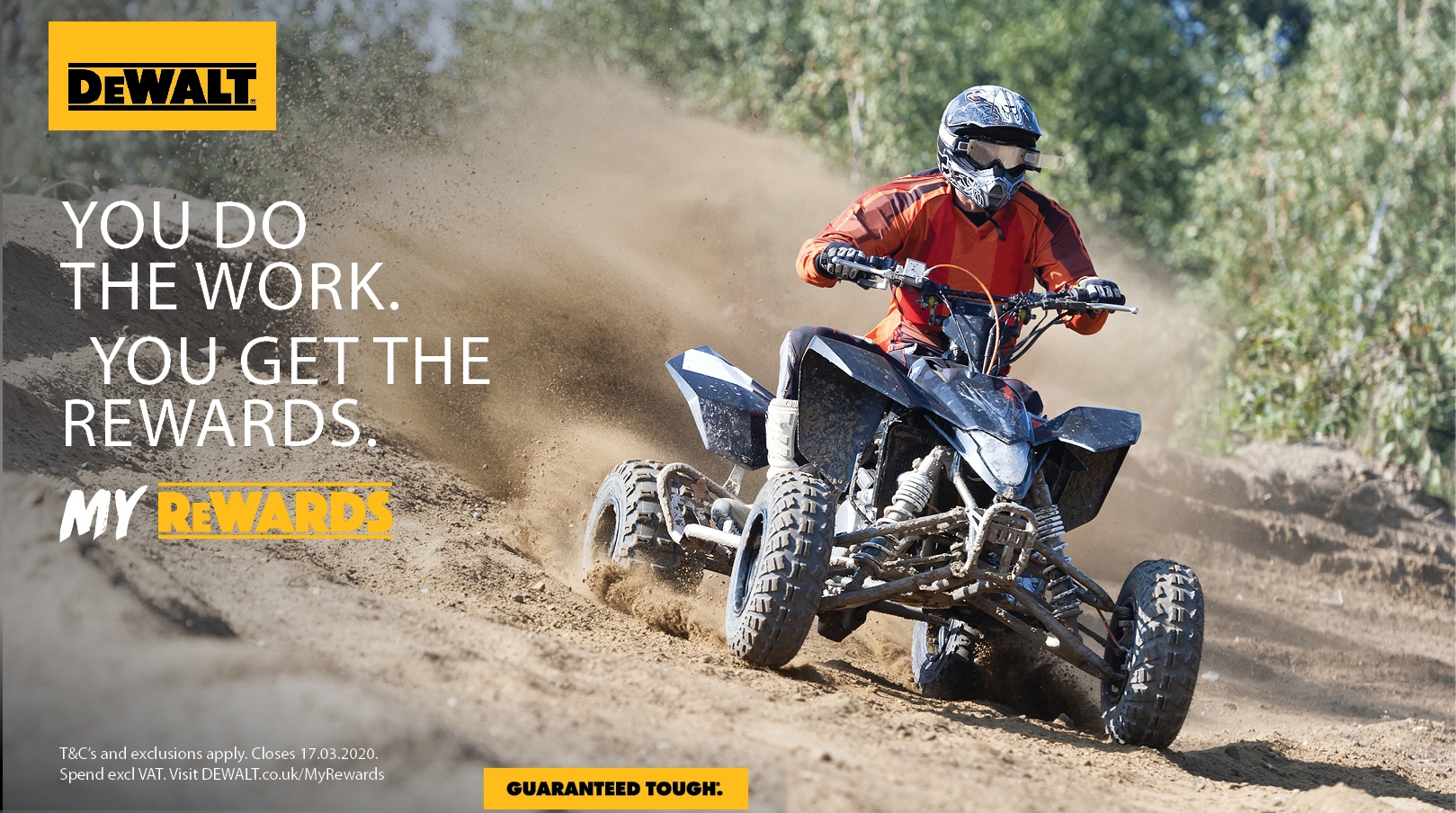 Additional DeWALT PREMIER CENTRE Battery Offers
Along with offering a variety of exciting experience days, DeWALT will also be running a free battery offer through the DeWALT PREMIER CENTRE (with qualifying purchases). The offer makes a free battery available after passing certain spend thresholds, detailed below.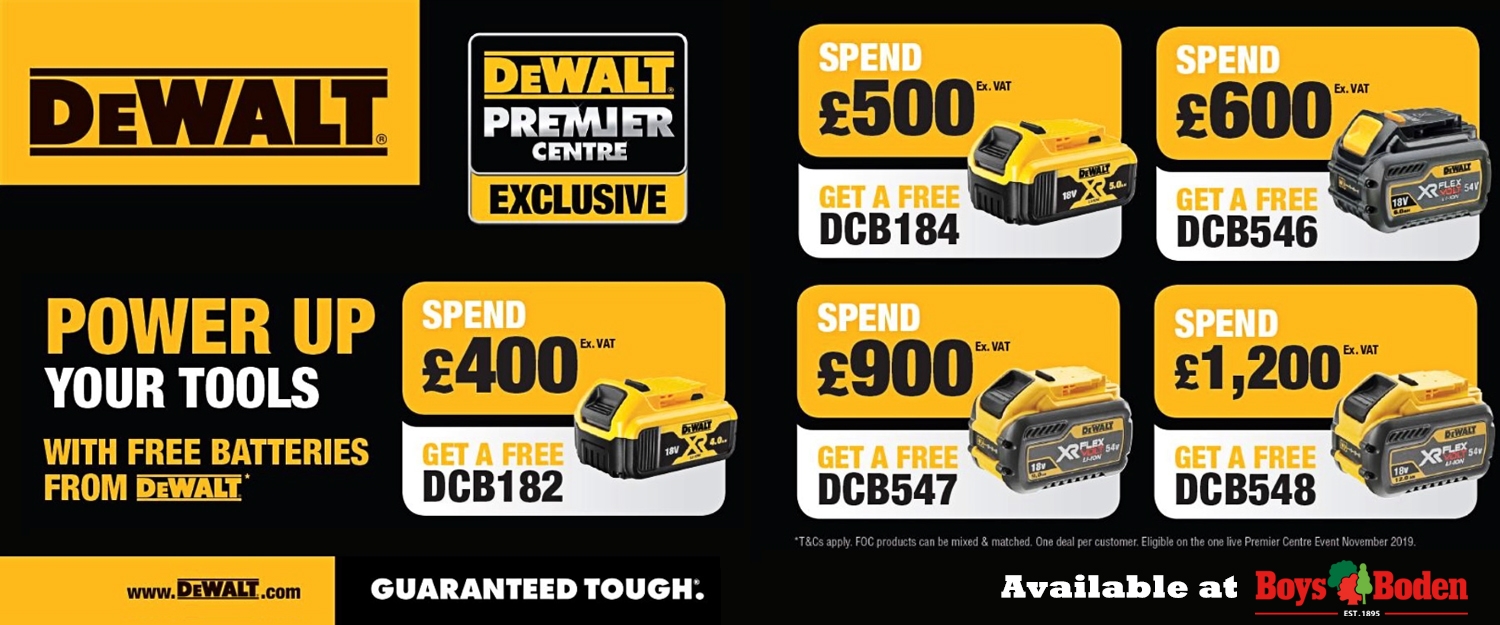 For more on DeWALT and the line of quality power tools available, visit you nearest Boys & Boden store today and speak with the helpful staff. The Chester branch is located on Broughton Mills Road, Chester, CH4 0BY; see the branch locator map for further details.

Terms & Conditions

1. DEWALT MyREWARDS: UK Res 18+ incl NI, CI, IOM, ROI
2. Valid for select DEWALT Power Tool purchases 17.10.19 – 17.03.20 11:59pm. Register receipts by: 31.05.20. Claim rewards by: 31.07.20 11:59pm. Collect points: £1/€1.12 (ex VAT)= 1 MyREWARDS Point. Participating retailers only. Proof of purchase required.
3. Min value purchase £400/€448 (ex VAT) applies. Visit www.dewalt.co.uk/MyREWARDS for full T&C's. Registered businesses only.
4. Claim Experience Days. Min points required to claim: 400
5. Restrictions and availability of experiences apply in UK, ROI, NI. Internet access required.
6. Promoter: DEWALT, 270 Bath Rd, Slough SL1 4DX.
How to claim
1. Purchase any DEWALT Power Tool in the range, listed in the full terms and conditions, from participating retailers to the minimum value of £400/€448 (ex VAT) retaining your receipt or proof of purchase for purchases made between 17.10.19 – 17.03.20 11:59pm. Last date for registering valid receipts 31.05.20 11:59pm. Redeem points by 30.06.20. Last date to claim rewards: 31.07.20 11:59pm
2. Log onto www.dewalt.co.uk/MyREWARDS, and create an account using your name, business name and registered details, address and contact details (contact email and telephone)
3. Register your purchase(s) from the DEWALT Power Tool range and its value to claim your MyREWARDS points. See full terms for DEWALT products included in this promotion.
4. Upload your receipts matching your purchase from the DEWALT Power Tool range (use your mobile to scan your receipt/s), noting that any images uploaded must be legible or they may be rejected.
5. For every £1/€1.12 (ex VAT) spent, you will receive 1 MyREWARDS point. Minimum number of Points collected to claim MyREWARDS is 400 Points. You can claim from a range of experiences up to 2000 Points. Please check the availability of your chosen MyREWARDS in UK and Ireland in the full terms and conditions.
6. Select your MyREWARDS Experience, based on the points you have collected to claim your experience, noting any restrictions on booking related to geography, age and health. Once selected, you will be sent an email to activate your booking.

7. Follow the instructions to book your experience and enjoy!
Please see the full terms and conditions below for further details on all MyREWARDS available to claim and important information about participating retailers.