The Story of Boys & Boden
Boys & Boden: A History
In 1885, a partnership sought to start the operation of a saw mill in Darlaston, Staffordshire. Trade began in 1886 and nine years later, Boys and Boden was officially founded by Henry Boys Boden and his cousin Frank Albert Boys. The main customers at the time were mines and railways. Both were in need of a steady flow of timber to either prop up mine shafts or expand lines around the country. Lumber was hauled to the mill over many miles by gargantuan shire horses.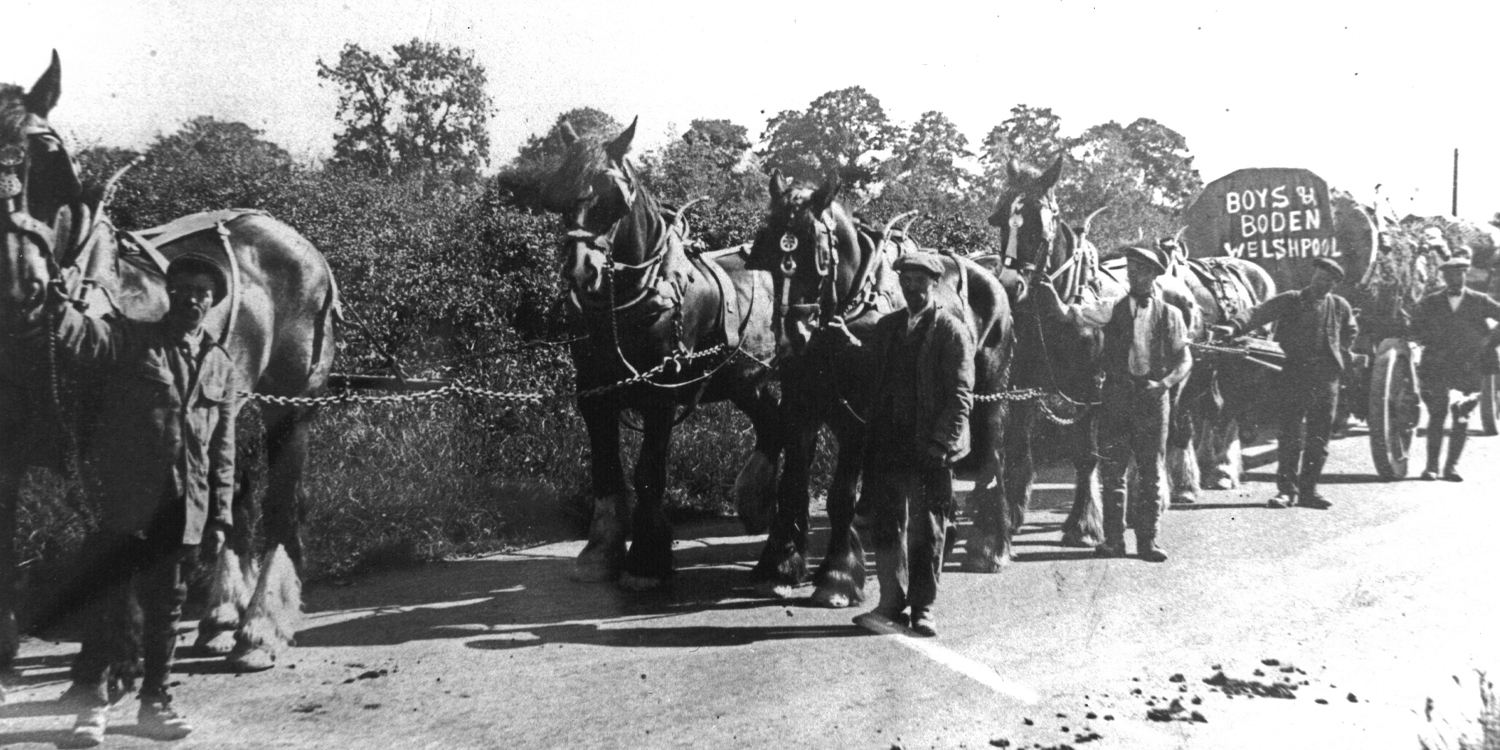 (A train of horses transporting Montgomeryshire oak in the 1930s)
British Saw Mills, Welshpool; Early 20th Century Transport Hub
The life blood of the business came from sturdy British oaks, which were much more abundant in the early 20th century. In 1917, Boys and Boden moved to the British Sawmills in Welshpool. The location was not only closer to Montgomeryshire's oaks but also had convenient access to a railway and canal. The busy A483 that now runs past the site was once a railway line, frequently burdened by the tonnes of quality timber that passed through the site. The remains of the loading station can still bee seen from the road.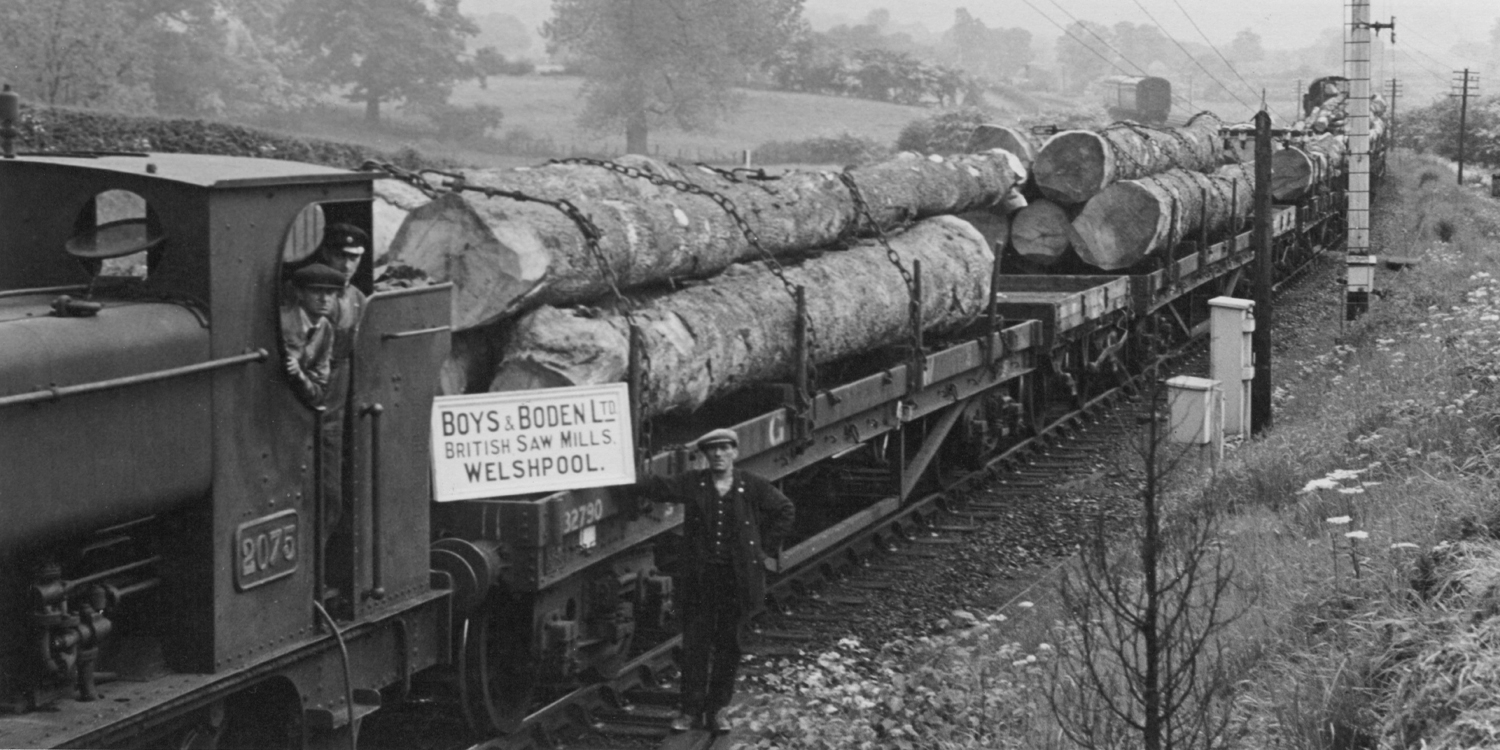 (Just outside Welshpool, a delivery ready for the mill)
Boys & Boden Limited, Established
The next big step for Boys and Boden came on August 3, 1926 when the certificate of incorporation came into effect and the company officially became Boys and Boden Limited, a name it still carries today. Four years later, Frank Boys made the difficult decision to leave Boys and Boden and went on to start another company selling building merchandise. Frank may have left, but his name stayed, a part of a company name that has been recognised and trusted for over 120 years.
At the age of 22 Harry Boden, grandson of Henry, left the Air Force and joined the company in 1947. He was the third generation of Bodens to do so after his father, Harry Denham Boden. Starting in the 1960s and going on into the 80s, there was a large agricultural boom that Mr Boden was keen to capitalise on. Lucrative markets opened up making cow kennels, silage panels, farm gates and other such products that were in high demand.
(Outside the gates of Powis castle)
A Saw Mill Becomes a Builders' Merchant
By 1973 Boys and Boden was a well-established brand throughout Mid-Wales and the borders. Capitalising on this pedigree, and cementing itself as the builder's merchant of choice, a branch was opened in Newtown. Despite having roots firmly set in saw milling, Harry Boden knew that innovation was key to the company's survival. In 1978, the company began taking its first steps into the digital age, purchasing a computerised 2k machine and invoice machine.
1980 saw a tip in the balance. After 85 years of milling being the primary business, Boys and Boden was now a builders' merchant before anything else. This decline in saw milling would not let up. Noticing an opportunity for change, an Engineering postgraduate at Warwick University decided to write a report on the company as a part of his master's degree. Dean Hammond, now Managing Director, presented his report to Mr Boden.
Mr Hammond said: "I wrote a 190-page report on the company, and submitted it to Mr Boden. The managing director. He must have been suitably impressed, and asked me to join the company to try to bring the changes in."
"When I arrived in the company, I found they used to do a lot of logging. There were trees and bark everywhere, but unfortunately, they only ran the milling operation on a Wednesday afternoon.
"I felt the company could not continue milling when we needed space to manufacture timber frame housing, which is a rapidly growing development – and we needed the space immediately."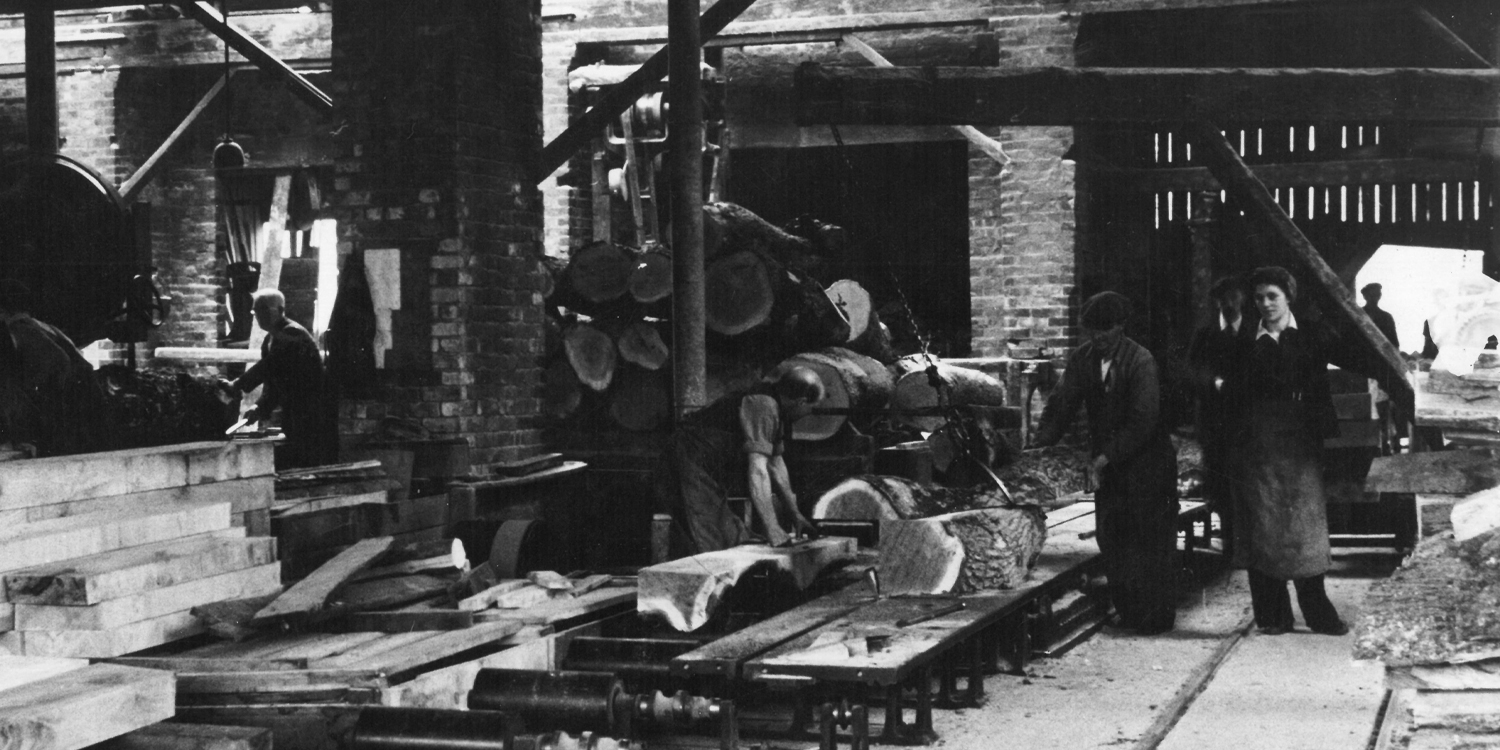 (Inside the sawmill)
A challenging decision had to be made. In 1992 the last sawmill operator retired and the mill closed for good. Of the company's two logging machines one went off to be used in Ireland and the other can be found in a Yorkshire museum.
As Boys and Boden closed this chapter in its history it leapt at a wealth of opportunities now open to it. Branching out into the plumbing and bathrooms market, The Plumbline was established as a sister company to Boys & Boden. Luxury bathroom showrooms were built at each Boys & Boden location, providing customers with the opportunity to experience high-end bathroom fixtures and talk through their plans with a knowledgeable professional.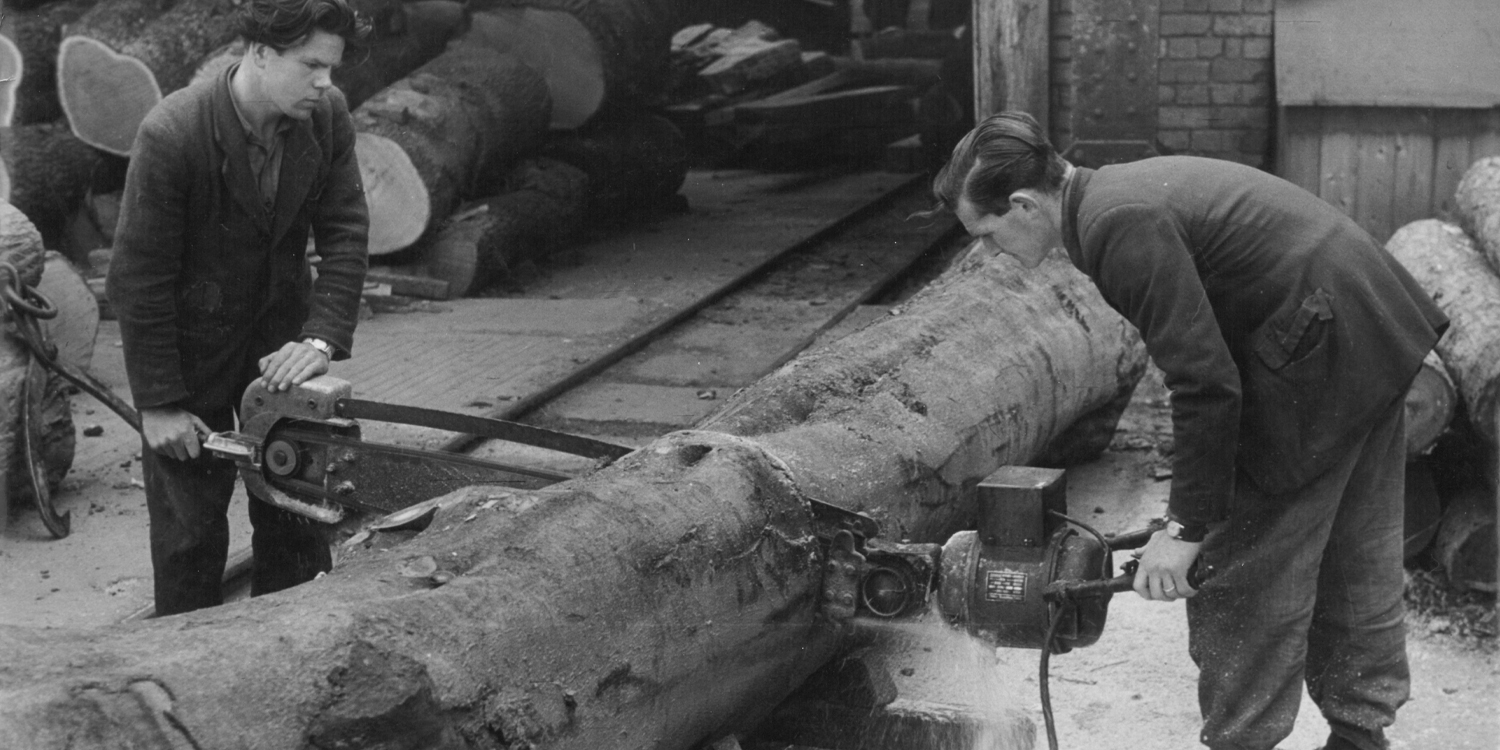 (Sectioning the timber with a two-man saw)
Constantly Evolving and Adapting
Along with a division for bathrooms, Boys & Boden also branched out into staircases with the online-based company, Pear Stairs. Pear Stairs now manufactures hundreds of staircases a year in the very building where the oaks were being processed over a century ago. Constantly evolving to remain competitive, Boys & Boden launched the latest iteration of its website in 2019; allowing customers to peruse thousands of products and assemble the quote they need for the job at hand, all from their computer or phone.
A demonstrated ability to adapt has meant that Boys & Boden has not simply weathered the years, it has thrived. The company now has five major branches based in Welshpool, Newtown, Llandrindod Wells, Shrewsbury and Chester with the latter being a veritable DIY superstore. To continue following the constant development and growth of Boys & Boden, follow us on Facebook, Instagram, Twitter or come and visit us at one of our many locations.